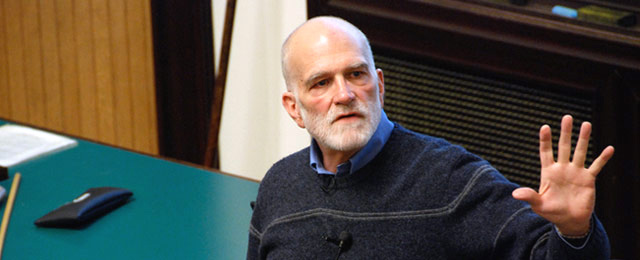 People around the world can share — online — in the Yale classroom experience.
One of the most frequently visited of all Yale websites is Open Yale Courses, which allows visitors from around the world to "attend" campus classes — taught by some of the University's most distinguished faculty members — online and for free.
Millions have tuned in to learn about subjects ranging from the early Middle Ages to evolutionary biology to modern poetry. Ranked one of the top 50 websites of 2011 by Time Magazine, Open Yale Courses now features 42 Yale College courses — in the humanities, arts, science, and social sciences — in high-definition video, or in audio format. Course syllabi, reading assignments, problem sets, and other materials are also offered online. These are non-credit courses.
Among the most recently added Open Yale Courses are "The Atmosphere, the Ocean, and Environmental Change," taught by Ronald Smith; "African American History: From Emancipation to the Present," taught by Jonathan Holloway; and "Philosophy and the Science of Human Nature," taught by Tamar Gendler.
Those are just a sampling. For the complete offerings, visit the Yale Open Courses website.
After the academic year has ended, students can still earn Yale College credits through the University's Summer Session program. Now they don't even have to be on campus to do so.
Through the Yale Summer Session Online Course Program, students anywhere in the world can "sit" in a virtual classroom, interacting in real time with instructors and classmates as they learn about topics ranging from economics to psychology, music, literature, and more.
The intensive, five-week courses are taught by Yale faculty, and each is worth one Yale College credit — the equivalent of four credit hours. An audit (non-credit) option is also available for select courses.
More information about this summer's courses, including videos by Yale professors about their classes, is available at the Yale Summer Session Online Courses website.
Registration open for spring MOOCs: Free online learning with Yale experts
Registration open for free fall MOOCs: Online learning with top Yale experts